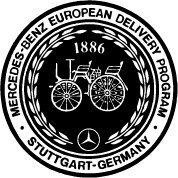 Mercedes-Benz European Delivery Program allows you to enjoy driving your new Mercedes-Benz while vacationing in Europe, while saving up to 7% for selected models off the total vehicle MSRP at the same time. As our guests we want to make sure that we exceed your expectations while you save on your vehicle and vacation in Europe. Your visit to the Mercedes Delivery Center and Mercedes-Benz Factory contributes to the important story of the invention of the automobile and the contribution of you, the Mercedes-Benz customer in this story.
130 years ago, the first automobile was designed and manufactured in 1886 by Karl Benz.

Mercedes-Benz has the tradition of innovation and invention.

Mercedes-Benz lays claim to over 100,000 patents and we continue today as the premier leader in development of new advanced automotive technology. We have a decades-long record of safety advancement, and hundreds of automotive designs that have set and continue to blaze the trail to new standards. The Mercedes-Benz story which you will take part in as you visit the Factory to pick up your vehicle, is one of invention, innovation, and engineering leadership second to no other manufacturer.
Mercedes-Benz USA, LLC offers an all-inclusive program:

One night accommodation in one of two luxurious hotels in Stuttgart
Breakfast or lunch at the Delivery Center
Two taxi coupons for ride from airport or main railroad station to the Delivery Center or hotel
15 days European Road Insurance
Full tank of fuel
Conveyance from eleven European Drop-off Points to port of shipment
Ocean Freight to U.S. Port
Marine Insurance
Vehicle Preparation Center Processing
Transportation to the selling/delivering dealer
Destination charge $925 is waived
Optional 3 and 5 day hotel packages available. Please check with MBUSA for details.
**We suggest you allow a three-four month lead time to enter orders. We can meet earlier delivery dates as well. All orders subject to confirmation in writing by MBUSA, and availability.