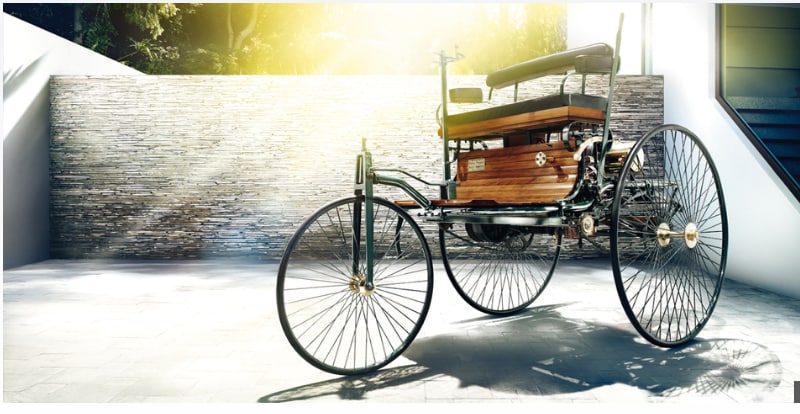 The Birth of the Automobile:
On January 29, 1886, Carl Benz submitted the patent for his motor car at the Imperial Patent Office in Berlin. This invention is considered to be the birth of the automobile, and has changed and formed individual mobility worldwide to this day.
It had the patent number "DRP 37435." The patent specification for the world's first vehicle with an internal combustion engine and electric ignition is regarded today as the birth certificate of the automobile.  Since 2011, the patent document has been part of UNESCO's Memory of the World Programme, which also includes the Gutenberg Bible, the Magna Carta and Johann Sebastian Bach's Mass in B Minor. Being the first of its kind, the motor car was undoubtedly impressive, but it was the long-distance drive made by Carl Benz's wife, Bertha, along with their two sons, from Mannheim to Pforzheim that proved the car's worth. As a show of confidence in her husband's work, and without his knowledge, Bertha embarked on what came to be a publicity tour.
The journey of Carl Benz's wife, Bertha was successful; the critics were silenced and everyone was talking about the Benz Patent Motor Car. For the past 130 years Mercedes-Benz has stayed on the pathway paved before us, continuing to lead the automotive industry in luxury and innovation.